Project Details
Project Status

Ready To Move

Property Category

Residential

Specifications

FOUNDATION / STRUCTURE The Structure is R.C.C framed, designed for stilt + 13 upper floors. WALLS FINISHES Interior : Gypsum - plaster / similar Exterior : Outer wall with premium quality Anti - Fungal & Anti - Fading paint Kitchen & Bathrooms : Ceramic tiles for 2' and 7' height respectively WINDOWS Bedroom, Kitchen : UPVC / Wooden Framed windows Bathrooms : Fixed Louvers WALLS Sound/Heat/Water resistant wiener berger - porotherm / similar blocks with cement mortar for outer walls. Clay / Cement bricks masonry with cement mortar for inner walls. DOORS Door : American moulded doors with hardwood frame Bedroom Doors : Flush door with hardwood frame FLOOR FINISHES Common Area : Granite / Marble / Vitrified Tiles Living, Dining, Bedrooms & Kitchen : Vitrified Tiles with Skirting Balcony / Bathrooms : Non Slippery Ceramic tiles Sanitary Fitting SANITARY FITTING Kitchen : Stainless steel sink and tap with polished granite counter top Bathroom : Western type water closet, Shower rose with Hot & cold mixer, wash basin MODULAR ELECTRICAL SWITCHES Electrical Points 2 BHK 3 BHK Light Point 15 18 Power Point 5 A 8 13 Kitchen 16 A 2 2 Ceiling Fan Point 4 5 Geyser Point 16 A 2 3 Telephone Point 2 3 TV Point 2 3 Aircon Point 2 3 Chandelier Point 1 1 Bell Chime Point 1 1 Exhaust Fan Point 3 4
Amenities
The footprint of the building covers only 30% of total area leaving the balance area of 70% for Landscaping and other outside amenities.
First of its kind and unique Classic European Themed Architecture that would define the skyline for generations to come.
Magnificent Central Courtyard with Lush Green ambience and excellent outdoor amenities.
The amenities include a large size outdoor swimming pool, a sophisticated air-conditioned Gymnasium, indoor gaming room promoting healthier life style.
Internet accessibility/ WIFI through dedicated leased Lines
Power Back Up generator for all common area with 500 Watts for every apartment
EPABX System with state of the art DID (Digital Inward Dialling) system which entitles the residents to get a unique telephone number for each apartment without monthly rentals charges.
Centralized Piped Gas system for cooking.
Garbage Chutes at each floor for efficient garbage segregation and disposal.
Service Lift for every block with a Wheel Chair and Stretcher for emergencies.
Sewage Treatment plant which would recycle the waste water for the gardening purpose.
Property Description
Salient Features of S.I.S Acropole
The inspiration to name the project S.I.S Acropole was derived from the word 'Acropolis' which is an ancient citadel in Athens containing the Parthenon and other notable buildings. It also meant a fortified city or a citadel built on a hill which gives its visitors a feeling of awe and an opportunity to experience the magnificent Greek's ancient tradition and culture.
Overview of the Project
S.I.S Acropole, a residential project comprising of 680 Lifestyle defining apartments is currently under construction and being handed over to the residents in phases. This sprawling Township project, distinctly unique in its architecture inspired by Acropolis is very first of its kind in Trichy city for its resplendent amenities provided in perfect harmony with a traditional building style and is spread over a 6.63 Acre property with various lifestyle enhancing amenities that would no doubt add value to the living conditions for the discerning residents of SIS Acropole.
The project boasts a large amenities block (The Club House) with an area of over 20,000 sq. ft built with an unique intricate design and structure neatly complimented with lifestyle changing amenities and convenience.
In S.I.S Acropole an astounding 70% of the land mass has been set aside for lush landscaping, walkways, Joggers Trail and children play area amidst luscious surroundings. Located amidst the bustling E-Pudur suburb on a 100 feet Madurai Main road, S.I.S Acropole offers excellent access to Trichy Railway Junction, International Airport as well as to the intra city bus station.
Floor Plans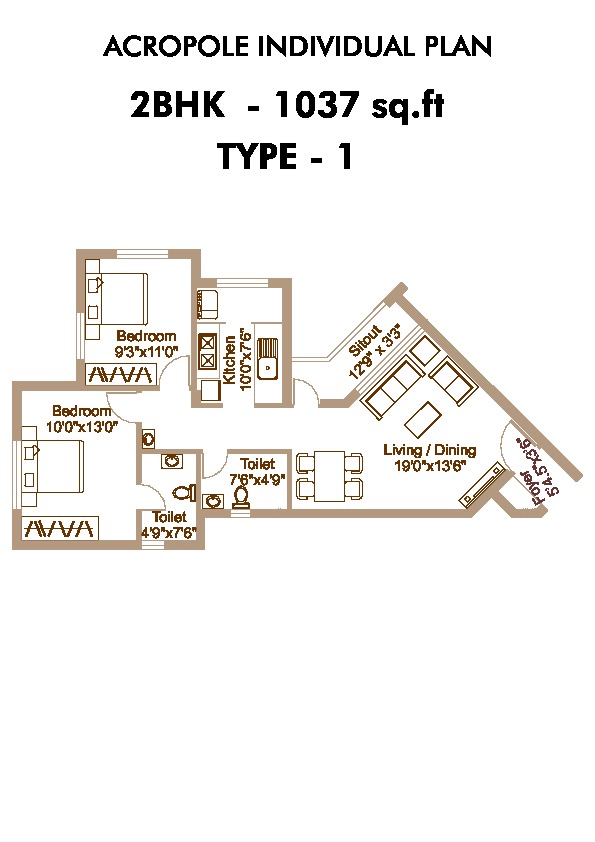 Near By Places
Instructions
Enter the title which will be used as instructions description on listing detail page.